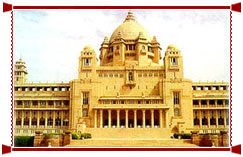 Ratings: Heritage
Address:
Umaid Bhawan Palace City : Jodhpur PinCode : 342 006 State : Rajasthan
Accessibility:
Hotel Umaid Bhawan ,Jodhpur is situated 3 km away from the Jodhpur Airport and 5 km from the Jodhpur Railway Station. From the Jodhpur main bus station it is 3 km away.
Locational Advantage:
Hotel Umaid Bhawan, Jodhpur is situated on a small hill with the city & fort view.
Hotel Description:
Maharaja Umed Singh II, ruling king of Kota in the early 1900s decided that he wanted a modern palace for his personal use.So,he commissioned Sir Swinton Jacob, an officer of the Royal Engineers in the British Army to undertake the conception and implementation of this project ,and in 1905 the Umed Bhawan Palace, built in the prevalent Indo-Sarcenic style, was constructed.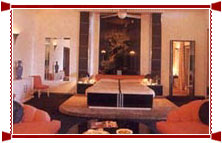 Accommodation at Hotel Umaid Bhawan, Jodhpur:
Hotel Umaid Bhawan, Jodhpur has 32 air-conditioned rooms including suites.This Indo-Sarcenic, early 20th century Umaid Bhawan palace has retained all the clean-cut solidity of the Victorian influence mingled with subtle Rajasthani trends as well as the trappings of royal comfort and aplomb. While the decorated ceilings and the marble corridors speak of its regal origins, the heirlooms and hunting trophies speak of the royal glories and lifestyles of the time.
Amenities & Services at Hotel Umaid Bhawan, Jodhpur:
Cycling/Jogging trail,Indoor board games like carom and chess,Banquet facilities,Conference facilities,Room Service,Television with satellite channels,Telephone with direct dialling facilities,Running hot and cold water,Laundry,Indian, Continental and Chinese cuisine,TV lounge and Bar,Credit cards and money exchange, badminton court, croquet, Doctor on call